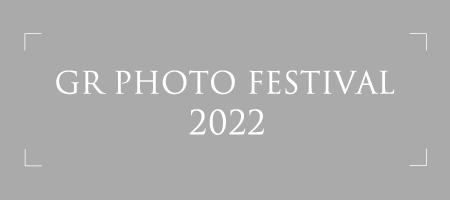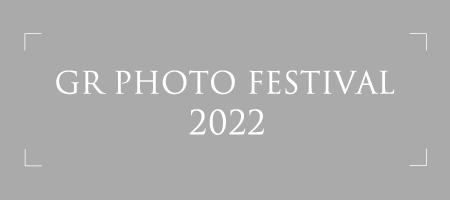 The GR PHOTO FESTIVAL 2022 is a photo contest open to all customers around the world who enjoy taking pictures with their GR series cameras, based on our passion for photography "Take out your camera. Enjoy daily photographs."

This photo contest is different from the conventional contests,
where entries are ranked in order of excellence, in that professional photographers from around the world will be commissioned to select works from their own perspectives. No prize or prize money.

The theme is "Daily Life".

It is in your ordinary day-to-day life that you find precious moments.
Having a camera reminds you of that every day. Why don't you capture your important "Daily Life" with your GR?

We hope that the GR PHOTO FESTIVAL will provide you with an opportunity to find a new way to enjoy photography and discover new perspectives. We look forward to your submissions from all over the world.
ENTRY
Entry period

From October 21 (Friday) to December 25 (Sunday) 23:59 (JST), 2022
Entry requirements

All GR users worldwide regardless of whether they are professional or amateur can enter the contest.
Submitted work

Work submitted to Ricoh Imaging must meet the following conditions.
The work must be an unpublished piece taken with a GR-series camera (this includes film models) from January 2019 to the present.


* Please submit a digital copy of your work if using a film model.
* Please refer to "Entry notes" for the definition of "unpublished".
Theme

"Daily life"
Number of pieces of work allowed

Each person can submit up to 3 pieces of work. A separate entry is required for each piece of work. There is a maximum of 3 entries per person. Sets of photos are not eligible for entry.


* If you applied for 4 or more works, your application will be valid for the first 3 works.
Judges

* Alphabetical order by last name

10 judges from around the world will each select 3 Award-Winning Works.



An Tae-young

An Tae-young was born in Korea in 1974. Although he did not major in photography, he into photography in 2006 with the Ricoh GRD series. In 2008, he made his professional debut by taking 1st place in the "Naver Hood Awards". He mainly has worked on projects for Samsung smartphones and mirrorless cameras. Until recently, he involved as a representative Korean writer for Fuji Film X Photographer. Currently, he is a judge of a big photo exhibition in Korea and continuously engaged in lectures under the theme of "Technology that makes everyday life special." He's a GR mania who always carries around GR.

Instagram
Facebook
Blog

mookio Chen

mookio likes to take photos with small cameras, and shares the joy of everyday snapshots at various photo seminars. He has published seven technical books on photography, including "GR Digital: 極致的浪漫 (Ultimate Romance)" and RICOH GR 攝影的真言 (The True Words of Photography), and was selected as an Eslite TOP 100 Best Seller in 2010 2012, Best 12 Contemporary Photos in 2014, and Professional Writer Awards in 2015 and 2017. He is well known to GR fans as the founder of the Facebook Page 'Ricoh GR 浪漫隨手拍 (Romantic Snapshots)'.

Facebook
Blog
YouTube

Jorge Garcia

Jorge Garcia is a NYC based freelance photographer and the executive director of NYC-SPC. He spends most of his time wandering sidewalks looking for interesting spontaneous moments. He typically shoots candidly and rarely speaks to the people he photographs. His work has been exhibited nationally and internationally. Some of his clients include Vice, Konbini, AFAR Magazine, Vox.com, AirBnb, and Next Level UK. He has taught workshops around the world, has been a judge at several street photography festivals, and has curated exhibition in NYC.
In 2015, he founded the NYC Street Photography Collective (NYC-SPC) as a way for local street photographers to meet and share their thoughts on the genre as an alternative to web based communities. The goal was to establish a local community for street photographers to exchange ideas, experiences, photographs while promoting emerging street photographers. NYC-SPC operates a community gallery space and photo lab in Brooklyn NY providing resources to support local NYC photographers.

Samuel Lintaro Hopf

Lintaro is a freelance Photographer and Filmmaker from Hamburg Germany. Born in Kamakura in 1988, he has both Japanese and German roots. After studying communication design at the Hamburg Academy of Design in 2012 he pursued a career as a freelance photojournalist and cameraman and started his own video production company. One of his big passions besides filmmaking is candid street photography. In 2017 he started his own YouTube Channel "Samuel L. Streetlife" which covers street photography events and interviews about street photography. Lintaro's work has been published in several magazines and he is now focusing on street photography workshops.

Kikuji Kawada

Born in Ibaraki Prefecture in 1933. In 1955, after graduating from Rikkyo University, he joined Shinchosha Publishing and was in charge of "Shukan Shincho" gravure, a weekly news magazine. He co-founded Photo Agency "VIVO", then turned freelance in 1959 after it broke up.
Kawada's books include "CHIZU" (Map, 1965), "Seinaru Sekai" (Sacré Atavism/Sacred World, 1971), "Last Cosmology" (1995), and "Sekai Gekijo" (The Globe Theatre, 1998), "Tooi Basho No Kioku" (Remote Past a Memoir, 2016), "CHIZU (Maquette Edition)" (Map (Maquette Edition), 2021), and "VORTEX" (2022) among other work.
His collection of work is on display at the National Museum of Modern Art, Tokyo, Tokyo Photographic Art Museum, Museum of Fine Arts, Boston, Museum of Modern Art, New York, San Francisco Museum of Modern Art, Tate Modern, and other galleries.
He was awarded the Lifetime Achievement Award from the Photographic Society of Japan (2011) and the Minister of Education Award for Fine Arts (2004), and is an honorary member of JPS.

John Taggart

John Taggart is an award-winning photographer with more than twenty five years of experience covering some of the world's biggest stories -- from mass shootings and natural disasters to presidential campaigns and a pandemic. A member of the New York City Street Photography Collective, he was recently awarded by Pictures of the Year International from his coverage of the Harvey Weinstein trial that was published in Time Magazine and The New Yorker and other magazines. His work appears regularly in the New York Times.

Sean Tucker

Sean is a Photographer, Filmmaker, Author and Speaker based in the UK. Over his career to date, he's been fortunate enough to tell visual stories for individuals, NGO'S and big multinational corporations across more than 20 countries. He's travelled many long hours as a solo filmmaker and photographer to create work with a meaningful message, and also helped organisations to set up inhouse studios and trained them to tell their own compelling visual stories. In more recent years he began a popular YouTube channel where he seeks to inspire other creatives, and he's recently published a book called "The Meaning in the Making" sharing his philosophy for the creative life.

Herbie Yamaguchi

Born in Tokyo in 1950. At the age of 23, he went to London and lived there for 10 years. He joined a theater company and acted 100 times on stage. During this time he encountered the punk rock and new wave movement. His photos, showing scenes of London as it lived and breathed, were well received. After returning to Japan, he created a collection of work in monochrome of portraits taken from a range of people from artists to everyday people in the city. His work expresses the theme of "hope to live" because of his long history of illness as a child. He also writes essays, has appeared on radio, and provided song lyrics to the guitarist, Tomoyasu Hotei.
He was awarded the Lifetime Achievement Award from the Photographic Society of Japan in 2011. He is currently a Visiting Professor at Osaka University of Arts, and his most recent books on photography are "Yoi Shashin Toha" (What makes a good photo?) and "Hito Wo Shiawase Ni Suru Shashin" (Photos to make people happy).

Zhou Mengying

Zhou Mengying, whose social media account id is "木木夕Moi", was born in Yangzhou, Jiangsu province. In the summer of 2019, she graduated from the City University of Hong Kong with a master's degree in fine arts. In the same year, she founded a personal photography studio. She has been engaged in portrait, fashion and commercial photography.
Social media: https://weibo.com/u/1311022841

Zhou Run

Zhou Run, a portrait photographer, is collaborated with Broncolor, Hassselblad and FinePix as their brand-promoting lecturer, and honored by Canon as their honorary photographer.
Born in Wujiang Suzhou Province, Zhou Run, although graduated in Shanghai Conservatory of Music, decided to take up camera and devoted himself into photography.
How to enter the contest

Ricoh Imaging will only accept online entries.


• Open the entry page from the link at the end of this page. Enter the necessary information and then submit one piece of work per entry.
Submitted work data

• A JPEG file with sRGB color space (default), 2MB to 15MB in size, and Exif information available can be submitted.
• If no Exif information is available, Ricoh Imaging may ask you to send the original JPEG data or RAW data for verification. Be sure to always keep the original data when shooting.

[For work shot with a film model]


• Send scanned data from the original film (if it is a positive film) or print. How you scanned the film does not matter. It can be from a scanner you used at home or a service provided by a camera and photography shop.
• A JPEG file with sRGB color space and 2MB to 15MB in size can be submitted.

* Original films and prints cannot be submitted.
Entry notes

• Submitted work must be unpublished work (work posted on personal websites, SNS, and online albums are considered to be unpublished) that has not been published in another contest or in print and is not scheduled to be published.
• Minors should obtain consent from their parent or guardian before entering the contest. Select the "I have received consent from my parent/guardian" check box. (Ricoh Imaging may ask you to submit a letter of consent at a later date.)
• When submitting work that shows identifiable individuals, you must obtain their consent (or the parent/guardian if the subject of the photo is a minor). It is assumed that you have obtained the consent of the subject of the photo (or the parent/guardian if the subject is a minor) at the time of entry.
• Winning work will be printed for viewing at an exhibition. When shooting with a digital camera, it is recommended to set the recording size to the maximum number of pixels for the camera being used and to shoot at the highest quality. Ricoh Imaging may also ask you to submit image data with a higher resolution after winning the contest.
• RICOH IMAGING COMPANY, LTD (hereafter, "the organizer") and its related companies accept no responsibility for any infringement of rights (all rights related to copyrights, trademark rights, portrait rights, etc.) or other problems that arise with third parties in relation to the submitted work. The applicant shall handle and resolve any such problems through their own actions and at their own expense.
• Copyright of the winning work belongs to the photographer. Winning work may be used on the Ricoh Imaging website, over SNS and in leaflets, etc., to announce future photo contests and such. The photographer's name will be displayed when the work is used for these activities. (The work will not be made available for use by third parties.) Ricoh Imaging may perform a minimum amount of image adjustment required to produce a print of the work to showcase it at a winners exhibition.

* It is assumed that the applicant has consented to all the conditions listed under "Entry notes" (hereafter, "the entry notes") at the time of entry.
* If it is discovered that the submitted work violates the entry notes, or if the organizer has decided that the law and rules have been violated, the organizer shall cancel the entry and award.
Notification and announcement of winners

• Ricoh Imaging will notify the winners directly in early February 2023.
• The winners will be officially announced on the Ricoh Imaging website (from late February 2023).
• Ricoh Imaging will not notify applicants if they are not among the winners. Ricoh Imaging is unable to reply to any inquiries about the judge's results.
• All Award-Winning works will be exhibited at the GR Photo Festival Exhibition scheduled to be held after late February 2023.
After winning the contest

• Ricoh Imaging may ask you to submit image data with a higher resolution to showcase the work at a winners exhibition.

* Image data will be produced from the scanned data submitted at the time of entry for work shot with a film model. Ricoh Imaging will not accept the original film.

• Failure to submit image data by the deadline specified in the winners notification will result in the award being canceled.
For inquiries

GR PHOTO FESTIVAL Management office
Email address:zjc_gr_photofestival@jp.ricoh.com


* Please note that it may take a few days to reply.
Handling of the applicant's personal information

Personal information provided by applicants as part of their entry to this contest will be used in accordance with the Privacy Policy of GR PHOTO FESTIVAL Personal information will not be disclosed to third parties except when operations have been outsourced to a company that has entered an NDA with the organizer. If you wish to inquire about, correct, or delete any details of the personal information, please contact the GR PHOTO FESTIVAL Management office.
GR PHOTO FESTIVAL official rule
Official Rules for GR PHOTO FESTIVAL

Last modified: October 21, 2022

NO PURCHASE OR PAYMENT OF ANY KIND IS NECESSARY TO ENTER OR WIN.
A PURCHASE WILL NOT INCREASE YOUR CHANCES OF WINNING. VOID WHERE PROHIBITED OR RESTRICTED BY LAW.

These "Official Rules" ("Official Rules"), entry guideline, entry form and any other information or notices to the entrants shall form part of the terms and conditions of the GR PHOTO FESTIVAL ("Contest").

In these Official Rules, the term "you" refer to any person who enters, or who wishes to enter, the Contest.
1. Eligibility

Open to all who may access to the Internet and who is 18 years of age or older at the time of entry. Entrants under 18 years of age require permission of a parent or guardian. By entering the Contest, entrants under 18 years of age indicate that they have obtained the permission of a parent or guardian. Provided that those who are members of anti-social forces or have relationships with anti-social forces (in these terms, "anti-social forces" refers to organized crime groups, members of organized crime groups, affiliates or affiliates of organized crime groups, or individuals or organizations otherwise involved in or involved in organized crime) are not eligible to apply.

2. Sponsor

The Contest is sponsored by RICOH Imaging Company Ltd., 1-3-6, Nakamagome, Ohta-ku Tokyo, 143-8555, Japan ("Sponsor").
The Contest is not open to officers and employees of the Sponsor or its affiliates.

3. Agreement to Official Rules

By entering, you indicate your full and unconditional agreement to (a) these Official Rules and (b) Sponsor's decisions, which are final and binding. Winning prize is contingent upon fulfilling all requirement set forth herein.

4. Contest Period

The Contest begins at 10:00 on Friday, October 21, 2022 and ends at 23:59 on Sunday, December 25, 2022 (JST). Sponsor's computer is the official time-keeping device for the contest.

5. How to Enter

You must post your original photo taken using RICOH GR series, not video. In order to enter the Contest, you must upload from dedicated page linked to the "Submit" button on this site

Your post will be referred as your Entry ("Entry"). Entries must be posted or reposted from the contest page (https://ricohimagingstore.com/grphotofestival_2022) during entry period. Please see the Submission Requirements as defined below ("Submission Requirements").

Entrants must have permission from all individuals that appear in the Entry (if any) to use their name and likeness in the Submission and to grant the rights set forth herein.

Entries will not be acknowledged if you attempt to obtain Entry using different email addresses, identities, registrations or logins, or through other methods, Sponsor may exclude you from participating in the Contest. When you enter, you are providing information to Sponsor. Sponsor is not responsible for lost, late, stolen, damaged, incomplete, invalid, un-intelligible, garbled, delayed or misdirected Entries; all of which will be void. By entering on the Contest, you agree that your Entry conforms to the Submission Requirements and that Sponsor, in its sole discretion , may disqualify you from the Contest if it believes that your Entry fails to conform to the Submission Requirements.

6. Important Note

Standard text messaging, data and/or other rates apply to participants who submit an Entry via wireless mobile device. Wireless service providers may charge for airtime and/or data in relation to each standard text message sent and received. Please contact your service provider for pricing and service plan information and rates before mobile device participation.

7. Submission Requirements

BY SUBMITTING AN ENTRY, YOU AGREE THAT THE ENTRY (AND EACH INDIVIDUAL COMPONENT THEREOF, INCLUDING, WITHOUT LIMITATION THE PHOTO) COMPLIES WITH ALL CONDITIONS STATED IN THESE OFFICIAL RULES. SPONSOR WILL BEAR NO LIABILITY WHATSOEVER REGARDING THE USE OF YOUR ENTRY OR ANY COMPONENT THEREOF, INCLUDING, WITHOUT LIMITATION. THE PHOTO IF INCLUDED, SPONSOR SHALL BE HELD HARMLESS BY YOU IN THE EVENT IT IS SUBSEQUENTLY DISCOVERED THAT YOU HAVE DEPARTED FROM OR NOT FULLY COMPLIED WITH ANY OF THESE OFFICIAL RULES.

You can post three times, but please post one photo per one Entry. Multiple photos in an Entry will be disqualified.

By participating in the Contest, each entrant hereby warrants and represents that:
- any Entry he/she submits is original to him/her;
- any Entry he/she submits does not violate any law, statue, ordinance or regulation;
- entrant saves original data and would provide it upon Sponsors request;
- any Entry he/she submits will not give rise to any claims whatsoever, including, without limitation, claims of infringement, invasion of privacy or publicity, or infringe on any rights and/or interest of any third party; and
- any Entry he/she submits is not defamatory, trade libelous, pornographic or obscene, and further that it will not contain, depict, include, discuss or involve, without limitation, any of the following: nudity; alcohol/drug consumption or smoking; explicit or graphic sexual activity, or sexual innuendo; crude, vulgar or offensive language and/or symbols; derogatory characterization of any ethnic, racial sexual, religions or other groups (including, without limitation, any competitors of Sponsor); conduct or other activities in violation of these Official Rules; and/or any other comment that is or could be considered inappropriate, unsuitable or offensive, all as determined by the Sponsor in its sole and absolute discretion.

The Sponsor reserves the right, in its sole and absolute discretion, at any time and for any reason to screen any Entry(s). Any Entry that the Sponsor deems, in its sole and absolute discretion, to violate the terms and conditions set forth in these Official Rules is subject to disqualification. The Sponsor reserves the right, in its sole and absolute discretion at any time and for any reason, to request an entrant to modify, edit and/or re-submit his or her Entry in order to ensure that the Entry complies with these Official Rules, or of any other reason. If such an action is necessary at any point during or after the Contest, then the Sponsor reserves the right, in its sole discretion, to take whatever action it deems necessary based on the circumstances - including, without limitation, disqualifying the Entry (and therefore the corresponding Entry and/or the associated entrant).

8. Judging

Winners will be decided after the Contest period ends, by the Judges described in this site. Contest results are scheduled to be announced on the contest page (www.ricoh-imaging.com/en/ grphotofestival/2022/) on or after late February 2023.

9. Sponsor's Rights to Entries

By entering the Contest and submitting an Entry, each entrant: (i) grants to the Sponsor and its affiliates, irrevocable, royalty-free, worldwide, in perpetuity, a non-exclusive license to publish, display, reproduce, modify, edit or otherwise use his/her Entry(and each component thereof), in whole or in part, for advertising or promoting the Contest or for any other reason in our web-site, SNS and other media; (ii)waives all moral rights in and to his/her Entry (and each component thereof) in favor of the Sponsor; and (iii) agrees to release and hold harmless the Sponsor from and against any and all claims, damages, liabilities, costs, ad expenses arising from us of his/her Entry (or any component thereof), including, without limitation, any claim gazed on publicity rights, defamation, invasion of privacy, copyright infringement, trademark infringement or any other intellectual property related or other caused of action whatsoever. For greater certainty and the avoidance of any doubt, the Sponsor reserves the right, in its sole and absolute discretion and at any time, to disqualify any Entry (or any component thereof) if a complaint is received with respect to the Entry, or for any other reason. If such an action is necessary at any point during or after the Contest, then Sponsor reserves the right, in its sole discretion, to take whatever action it deems necessary based on the circumstances, including, without limitation, disqualifying the Entry and/or the associated entrant.

10. Notification and Requirements of Potential Winners

Potential winners will be notified by direct message to email address described in the entry form and will be asked to respond to provide their full name, address(including country code) and telephone number. If the response is not returned within the specified time period, the notification is returned as undeliverable. Sponsor is unable to contact the potential winner(s), or the potential winner(s) is not in compliance with these Official Rules, winning notification will be forfeited, and, at Sponsor's discretion, an alternate potential winner(s) may be selected from among all remaining eligible entries received as soon as reasonably possible. Results will be published on the Sponsor's official website and RICOH Group social media channels.

11. General Conditions

In the event that the operation, security, or administration of the Contest is impaired in any way, including, but not limited to fraud, virus, or other technical problems, Sponsor may, in its sole discretion, either; (a) suspend the Contest to address the impairment and then resume the Contest in a manner that best conforms to the spirit of these Official Rules: or (b)winning award at random from among the eligible entries received up to the time of the impairment. Sponsor reserves the right in its sole discretion to disqualify any individual who tampers with the operation of the Contest, violates these Official Rules, or acts in an unsportsmanlike or disruptive manner. Any attempt by any person to undermine the legitimate operation of the Contest may be a violation of criminal and civil lay, and, should such an attempt be made, Sponsor reserves the right to seek damages from any such person to the fullest extent permitted by law. Failure by Sponsor to enforce any terms of these Official Rules shall not constitute a waiver of that provision. Proof of sending any communication to Sponsor by mail shall not be deemed proof of receipt of that communication by Sponsor. In the event of a dispute as to the owner of an entry, the authorized account holder of the email address used to enter will be deemed to be the entrant. The "authorized account holder" is the natural person who is assigned to an email address by an Internet access provider, online service provider, or other organization responsible for assigning email addresses for the domain associated with the submitted email address. The Contest is subject to federal, state, and local laws and regulations and is void where prohibited.

12. Release and Limitations of Liability

By participating in the Contest, you agree to release and hold harmless Sponsor, their parent company, subsidiaries, affiliates and their respective officers, directors, employees, agents (the "Released Parties") from and against any claim or cause of action arising out of participation in the Contest and wining award, including, but not limited to: (a) unauthorized human intervention in the Contest (b) terminal errors related to computers', servers, providers, or telephone, or networks lines; (c) printing errors; (d) lost, late, postage-due, misdirected, or undeliverable mail; (e) errors in the administration of the Contest or the processing of entries; or (f) injury of damage to person or property which may be caused directly or indirectly, in whole or in part from entrant's participation in the Contest and winning award. You further agree that in any cause of action, the Released Parties' liability will be limited to the cost of entering and participating in the Contest and winning award, and in no event shall the Released Parties be liable for attorney's fees. You waive the right to claim any damage whatsoever, including but not limited to, punitive, consequential, compensatory, direct, or indirect damages.

13. Privacy and Publicity

Any information collected from the Contest shall be used only in a manner consistent with the consent given by the entrants at the time of entry, with these Official Rules, and with Sponsor's Privacy Notice for the Contest found at (https://www.ricoh-imaging.com/en/grphotofestival/2022/privacypolicy.html). Each entrant expressly agrees to the use of his/her personal information for such purpose. The following information will be collected from each entrant for the purpose of administering the Contest and may also be used by Sponsor and their affiliates to contact the potential winners: entrant name, age, address and email address. The Sponsor will not sell, share or otherwise disclose information collected in any manner with third parties, other than those parties necessary to fulfill the above purpose, unless entrant has given his prior express consent to receive additional information from the Sponsor or a third party. Entrants have a right to access to modification and withdrawal of their personal data. The Sponsor will take all steps reasonably necessary to ensure that entrants' personal information is treated securely and in accordance with Sponsor's Privacy for the Contest and these Official Rules.

14. Governing Law and Jurisdiction

You agree that any and all disputes, claims and causes of action arising out of, or connected with, the Contest shall be resolved individually, without resort to any form of class action, and exclusively by the Tokyo District Court as the court of first instance having exclusive jurisdiction. All issues and questions concerning the construction, validity, interpretation and enforceability of these Official Rules, your rights and obligations, or the rights and obligations of the Sponsor in connection with the Contest, shall be governed by, and construed in accordance with, the laws of Japan, including its choice of laws provision.

15. Controlling Text

The governing language of these Official Rules are English. Only the original English language version of these Official Rules have the effect of the rules, and any translation of these Official Rules have no contractual or any other effect.